This post may contain affiliate links which means I'll receive a commission if you purchase through my link at no extra cost to you. Please read my full disclosure
here
.
3 Vegan Subscription Boxes: Love Goodly, Petit Vour & UrthBox
for beauty, snacks & lifestyle

This article contains affiliate links; I will be compensated if you make a purchase after clicking on my links.
Subscription boxes are a great way to save money, and time. You get to discover new ethical brands without spending too much or searching for brands online or at a store. The best part is that each box comes with so many full size goodies.
Here I'm including three different companies so you can try out. They either come with products such as beauty, snacks, or lifestyle depending on which subscription box you sign up for. Subscribing is easy, and you will get your subscription box delivered to you. All of these companies have different subscription plans so you can pick something that works for you.
When you visit any of the following sites you can peek at past boxes to get a better idea what has been delivered before and you get a good idea on what you can possibly receive. Often times these companies will also let you know ahead of time which brands are going to be included into future boxes. Personally I don't like to look, and keep it a surprise until I receive my box to open it. It's like sending a gift to me, and a small way of creating excitement for myself, haha. Do you do this as well?? Or is it just me? lol
By the way, I've always liked rounding my prices to make it easier for you, and me. So all the prices have been rounded up…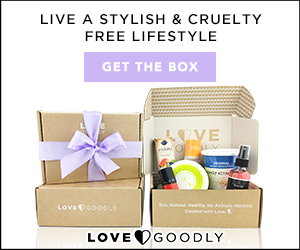 Love Goodly is a subscription box with beauty, skincare, and more. The products care cruelty-free, vegan, nontoxic, eco-friendly, and organic. It's like all the best into one box. This is a great way to discover cruelty-free brands in a lifestyle box.
Subscription Options:
You can select from two recurring subscription boxes. They both include free U.S. shipping, and it supports their charity partner Farm Sanctuary.
The Essential Box: Essential Bi-Monthly Subscription Box
– $35 every other month
– 4 to 5 full size products
– Total retail value of $105+
The VIP Box: VIP Bi-Monthly Subscription
– $49 every other month
– 5 to 6 full size products
– Total retail value of $140+
Other Options:
The other options are for non-recurring boxes, perfect for gift-giving or trying out. Shipping is calculated at checkout…
– Single VIP Box $56
– Gift Box $40
– 4 Month Prepaid Gift Boxes (2 boxes) $66
– 6 Month Prepaid Gift Boxes (3 boxes) $96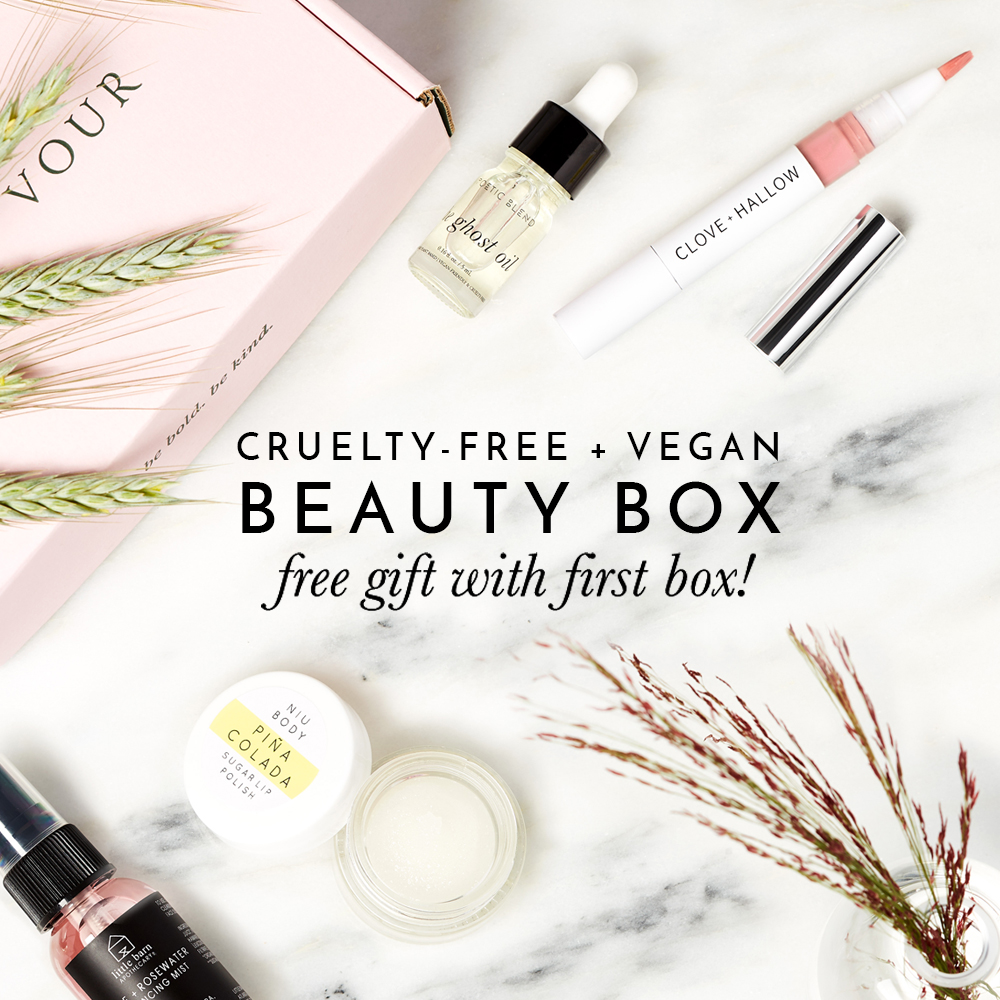 Petite Vour is the luxury destination for cruelty-free beauty, and lifestyle. Everything in the box is free of animal testing, animal ingredients, and harmful toxins to easily transition to cruelty-free beauty. In two of my Instagram photos you can see what I received from Petit Vour, see it
here
and
here
. Both times I was so satisfied with the variety of products I received. I keep my Metta Skincare hand balm beside my bed to apply it before going to sleep, and I use my
Le Prunier Plum Beauty Oil
as part of my skincare routine. These are two products I received, and I always find a home to each item before recycling the pretty pink box.
Subscription Options:
USA: Monthly $18 or Yearly $180 ($15/box)
Canada: Monthly $23 or Yearly $240 ($20/box)
Worldwide: Monthly $25 or Yearly $264 ($22/box)
– You can cancel at any time.
Discount:
LynSire readers get a 25% discount from the first order! Use this special code LYNSIRE25off
UrthBox is a healthy snack subscription box. Although they are not an entirely vegan company they do offer a complete vegan box. Their snacks are organic, non-GMO, and natural. They have different snack options depending on your lifestyle needs like their original, gluten-free, diet, and vegan options. In the past I did two separate UrthBox unboxing videos, see it
here
and
here
. Most of the products I did like with the exception of a few that I thought could have been better for my taste.
Shipping is free here in the USA, and $7 a box to Canada.
Subscription Options:
Casual Snacker: $20/monthly for 6+ snacks
Part-Time Snacker: $30/monthly for 12+ snacks
Happy Snacker: $40/monthly for 18+ snacks
Pro Snacker: $50 for 25+ snacks
– Select a box size: Mini, small, medium or large
– Choose 1 month, 3 month or 6 month subscription
– Purchase more of what you love at member discounts
– Cancel any time
Petit Vour Box and UrthBox are two vegan subscription boxes I have tried in the past, and I have been satisfied with the products I receive. I still have to try Love Goodly box, and it looks tempting to get for what they offer.
I find this to be a good way to save time. If you're into cruelty-free beauty, with Petit Vour box you have peace of mind that you will get products that align with your lifestyle. This is also a great option if you are transitioning to an ethical lifestyle. This way you don't have to be checking, and double checking the list of ingredients on labels.
Same thing with snacks, in you are gluten-free, vegan or on a diet but you still want to indulge in healthy snacks you can take to work, school or simply eat them from home. You save time from reading the ingredients on the labels or going through endless products at the store.
Thanks for taking the time to check out this blog post. These are three different vegan subscription boxes with beauty, snacks or lifestyle options. Enjoy the weekend!
Are you currently subscribed to a subscription box?
If so, what do you like most about it?
Watch the video here: