This post may contain affiliate links which means I'll receive a commission if you purchase through my link at no extra cost to you. Please read my full disclosure
here
.
Best Gifts for Yoga Lovers That They Will Actually Use
This post may contain affiliate links, which means I'll receive a commission if you purchase through my link at no extra cost to you. Please read full disclosure here.
Looking for gifts for yoga lovers that they will actually use? Here are the best gifts for yoga lovers.
Finding the best gifts for the yoga lover in your circle can be hard, especially when you aren't as active as they are.
Whether they're practicing a headstand, or just enjoy working out on their own, these are the best gifts for yoga lovers that will definitely help them reach their goals!
These items are ideal for yoga workouts like Meditation, Bikram / Hot Yoga, Kundalini yoga, Hatha yoga, Ashtanga yoga, Vinyasa yoga, Iyengar yoga, Yin yoga, Power yoga, Restorative yoga.
This post is all about gifts for yoga lovers.
Top trending items at Alo Yoga now:
The latest Alo Yoga trending styles like this jacket from the fan-favorite Foxy Sherpa collection!
Yoga Pose Books
Any yoga lover needs new poses to exercise or maybe they need a mind refresher of a pose they haven't done in a long time.
This will keep them on track on their yoga flexibility.
Yoga Science Books
If you think that yoga lover already knows all the poses, maybe take a more scientific approach.
These books will help them understand yoga more from a science perspective.
Cookbooks to Eat Healthy
That yoga lover you know about most likely is also into healthy eating. You can give them plenty of healthy meal eating with one of these cookbooks.
This will improve their skills in the kitchen and keep them on track!
Apple Watch
The Apple Watch has so many amazing features, but one that any yoga enthusiast would love is that it tracks their fitness and movement.
This is great for anyone that loves to keep track or heart rate, calories, and active minutes. Added bonus that you can control music and stay connected with people through call and email!
Beats Wireless Earphones
These Beats earphones has sweat and water resistant earbuds. 9 hours of listening time, and with a sleek design – any yoga lover would obsess over these!
JBL Speakera
For someone that loves to blast their music at the gym, or while they're working out outside, a good quality speaker is essential. JBL's are one of the superior speakers and definitely something any yogini would love.
AirPods
I mean, you can never go wrong with AirPods, but the noise canceling ones are out of this world.
If the yoga lover in your life enjoys to drown out the noise and really focus on his workout with music blasting, these headphones are made for them.
Theragun
The Theragun is a deep tissue treatment device that helps with recovering your muscles from strenuous workouts.
The Theragun is basically an at-home massage that recovers your muscles. Great for healing your muscles. Can't get much better than that!
Protein Powder
Any yogini can't have too much protein powder!
Protein powder can get expensive and adds up fast so get them one so they doesn't have.
Superfood Capsules
These superfood capsules has super greens like Spirulina, and Chlorella. It also has digestive enzymes and probiotics.
Crafted with 7 alkalizing farm fresh greens. Supports overall health and immunity so they reduce their chances of catching a cold!
Motivational Water Bottle BPA Free
For anyone, making sure to drink enough water can be difficult, especially when you're super busy. It's even more important for a yoga enthusiast to stay hydrated if they are constantly working their body.
This gallon water bottle gives you times of the day that you need to finish a certain amount of water by, encouraging you to keep drinking!
Hydro Flask Water Bottle
Nothing is better than a chug or sip of ice cold water after a really hard workout.
Hydro Flasks are amazing water bottles that keep water cold for extremely long, which make it perfect to bring to a workout. They have a variety of sizes and colors.

Buy from Amazon / Buy from Nordstrom 
Gym Bag
Dragging all your stuff into the gym without anything to carry it in can make your workout routine harder.
Having a good quality gym bag that can hold all your essentials makes a yoginis life much easier. This Icon Luxe Gym Bag one is handy too because you can strap a yoga mat to the bottom!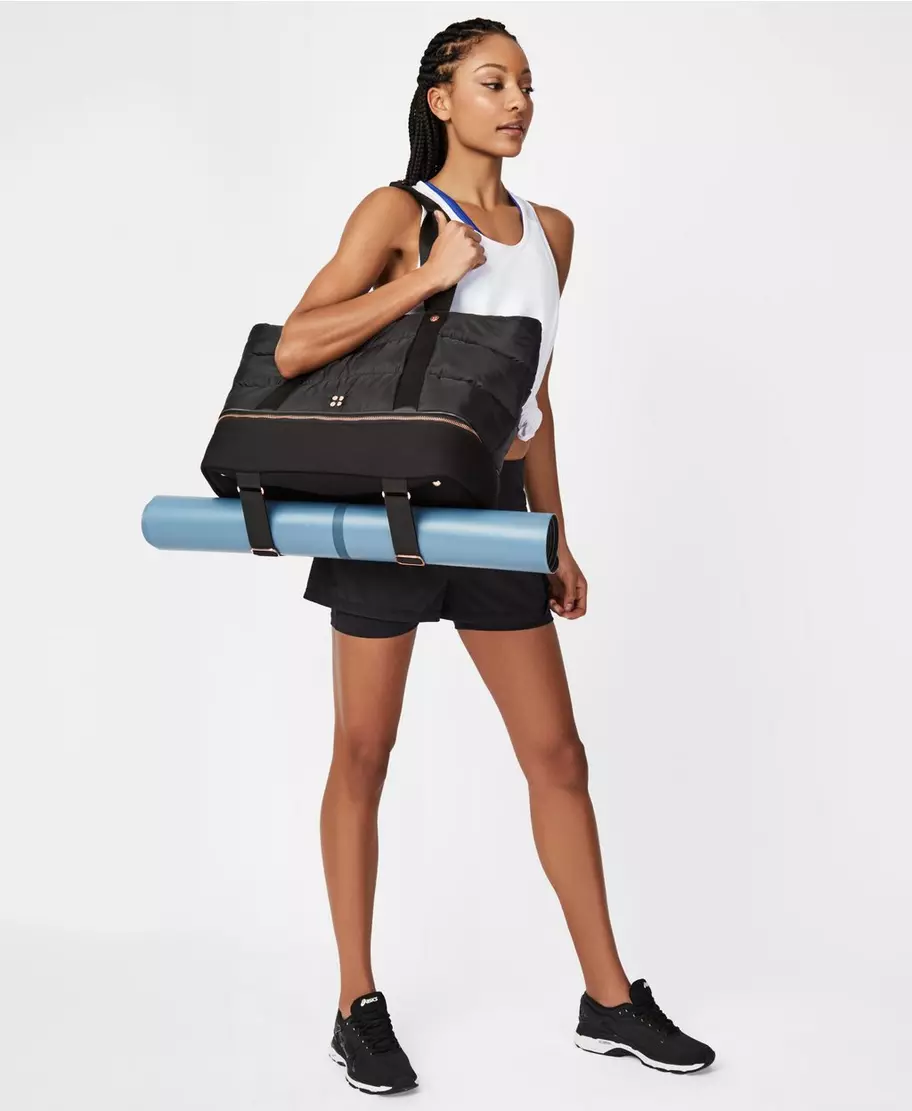 Cork Yoga Mat
A good quality yoga mat is essential for them to have. This is a cork yoga mat,  with  non-slip sweatproof surface.  Made from 100% recyclable materials. So eco-friendly!
Non Slip Yoga Towel
A yoga towel is another alternative to the regula yoga mat. The silicone is smooth and embedded in the towel so no bumps that you can feel during practice.
Suitable for all hot, bikram or sweaty practice as well as a great topper for any studio mat or pilates reformer
Yoga Mat Rack
This is a great way for any yoga lover to keep their mats in one place and organized. It also has extra hooks on the bottom to hang keys, headbands, or any other accesories.
Yoga Blocks
Yoga blocks are great for improving stretches. It's great for both yoga beginners and those who need a little extra help perfecting difficult yoga poses and meditation practices.
Made of 100% Eco-friendly natural cork, provides a soft grip, and slip-resistant.
Yoga Wheels
These  yoga rollers are great for back pain or to improve yoga poses. Also great for stretching, improve flexibility and backbends.
Yoga Foam Wedges
This slant and stretch wedge helps to make your muscles more responsive during exercising. Helps you stretch properly and reduce the chance of injury.
These foams are super light and portable.
Ankle Weights
Whether you're going on a walk, do a quick at home workout, or any yoga lover would love to have these laying around. Ankle weights are great to have when you want a little extra resistance to a workout.
Cooling Towel
Beat the head with a cooking towel. Soak it, wring it, and cool Down. This UPF 50+ cooling neck wrap doesn't just give cooling wonders but is also good at blocking damaging UVA & UVB rays too!
Yoga Straps
These yoga straps are great for stretching, yoga, pilates, or even physical therapy and fitness. Yoga lovers will sustain proper form in poses for longer time. So lightweight and portable.
Odor Eliminating Bags
The worst part about doing any type of workout is the sweat… it smells!
These odor eliminating bags are amazing for doing exactly that.. eliminating odor! Throw these in your shoes at night or keep one in your gym bag to keep things fresh and smelling normal lol.
Alo Yoga Sports Bra
Alo Yoga has some of the best athletic wear that always has a unique twist. As someone that loves yoga, you can't have too many workout bras or sports top. This one is cute because it has a slightly different design than a normal sports bra.
Ripped Yoga Pants
These leggings are so fun and cute! They have different design than regula yoga pants which makes them more unique.
Alo Yoga Leggings
Mytheresa online store has the best quality yoga leggings. I don't think it's possible for yoga girls to have too many pairs of yoga leggings.
Whether the athlete your gifting for is into running, lifting, yoga or lounging, there's a pair for every type of girl.
Men's Yoga Sweatpants
Gift them comfy pants, and this will make them love you even more. They really can't have enough!
Vivobarefoot Shoes
You can't go wrong with good quality shoes as gifts for yoga lovers. The Vivobarefoot shoes are plant based and eco friendly. Made with cleaner and greener materials.
Also with breathable mesh panels made from Sorona plant-based fibres means we we've created a shoe that is healthier for your feet, and for the planet.
Sanuk Yoga Sling
The Sanuk yoga slings have a criss cross king of design to them. If they already have one of these pairs which they wear all the time they probably need a new one.
These are made from recybled materials making them eco friendly.
Buy from Amazon / Buy from Zappos  
Sanuk Yoga Mat Flip Flops
Maybe that yoga lover is more into flip flops, this is the perfect solution.

Buy from Amazon / Buy from Zappos
Yoga Socks
They will feel confident, stylish and protected with these non-slip socks. They have such a cute design!
This post is all about gift ideas for yoga lovers.

Other Posts You May Like:
PIN THIS BLOG POST: