We only feature products that we hope you will love. We may earn a commission if you purchase through our links at no extra cost to you.
Last updated on January 28, 2023
Best Vegan Gift Ideas For Her – That SHE Will Love
Looking for gifts for that vegan female in your life? Here are a variety of gifts she will love.
Trying to buy a gift for a female vegan does not have to be challenging. There are plenty of options to choose from.
Whether it is your mom, girlfriend, or best friend, buying a gift she will be guaranteed to love will be easy if you buy any of the items below. From clothes to perfumes, and kitchen tools, you will surely get some inspiration from these gifts for that vegan female in your life.
These vegan gift ideas are perfect for any woman like your mom, wife, girlfriend, cousin, aunt, friend, or colleague, a client appreciation gift, and more. These make a great gift for holidays, birthdays, or housewarmings too.
This post is all about vegan gift ideas for her.
Vegan Gift Ideas For Her:
TABLE OF CONTENTS
Best Vegan Beauty Gifts For Her
Best Vegan Clothing Gifts For Her
Best Vegan Kitchen Gifts For Her
VEGAN BEAUTY GIFT IDEAS FOR HER
Makeup, perfumes, skincare, and more.
This Kat Von D perfume is one of the most popular vegan perfumes on the market right now and it smells SO good. The White bottle is called Saint, and the Black bottle is Sinner.
Any woman would get excited to get this perfume, and the bottle design is so fancy!
TOO FACED COSMETICS Better Than Sex Mascara
There's a reason this is one of the most popular mascaras out there. This iconic black mascara focuses on buildable length and volume while the unique hourglass wand helps to define and curl every lash. This can provide thick, and dramatic lashes, but it's customizable based on how intense or natural she wants her to look to be.
Note: The original Better Than Sex formula is vegan, but the waterproof version contains beeswax and is not considered to be vegan.
The shades are formulated with organic coconut oil, organic rose hip oil, and organic shea butter to create a smooth buttery texture for one swipe application.
This eyeshadow palette is vegan, cruelty-free, and gluten-free.
ZOEVA has a luxury 9-piece vegan brush set. This is a handcrafted makeup brush set in red color is designed to symbolize success and happiness. The Black brush set is made with rose gold. Both sets come with a matching clutch.
This set of brushes is made with vegan synthetic hair.
Drunk Elephant Glowy the Night Kit
She will fall in love with this limited-edition evening skincare set to wash away pollution, remove dead skin cells, hydrate the acid mantle, and support the skin's natural barrier, to make it glowy as can be.
This product is vegan and cruelty-free. Free of essential oils, silicones, fragrances, PEGs, and irritants.
This is a  limited-edition set that includes a moisturizer, an eye mask, and a cleaner. With beneficial ingredients like retinol, blueberry extract, and Centella Asiatica.
This product is vegan, cruelty-free, and comes in recyclable packaging.
VEGAN CLOTHING GIFT IDEAS FOR HER
Shoes, clothes, purses, and more.
Doshi FCSA offers modern materials like microfiber-based vegan leather and microfiber vegan suede that are strong, supple, and beautiful. These materials often outperform animal leather while greatly reducing impact.
They produce quality, fashionable vegan bags, and accessories, and they donate to responsible non-profits.
Svala offers luxury vegan handbags handcrafted from the finest European fabrics.
Any vegan female will be so happy to receive a good pair of Biankina shoes as a gift. The entire line offers only vegan shoes and they are so trendy. There are plenty of colors to choose from, and even that vegan female that has everything will be so excited to get these!
Your purchase of Biankina products, is eco-friendly, and animal-friendly, two trees are planted, and artisan-made.
What makes a jacket non-leather is that it was not made with cow skin, instead it was made with faux leather materials. These stylish faux leather jackets come in a variety of colors. That female vegan with surely love one of them.
With a cute pair of leggings, she will always have a cute outfit to put together. They are easy to style with sneakers or heels. Faux leggings are a staple piece in every vegan female's closet.
Dr. Marten's has a good selection of vegan boots for the vegan female in your life. These Dr. Marten's Black Combat Boots are some of the cutest and most popular boots on the market right now for women. Even the female that has everything will be so excited to get these!
VEGAN KITCHEN GIFT IDEAS FOR HER
Blender, food processor, composting, and more.
The Vitamix professional blender is one that I've had for so many years because it's that good. With this blender, you can make smoothies, soup recipes, raw desserts and so much more. It's a high-speed blender with variable speed controls so you're in complete control. Just a warning, it can get pretty loud. This Vitamix blender is available in Black, Red, and White. If I were to buy it again I would get a White one to match my White kitchen, oh well.
The Breville Compact Juicer is what I use to get fresh, natural juice from fruits and veggies from the comfort of my home. I like the compact size so it can fit well even in the smallest kitchen. The only downside to me is the cleaning part when it's time to take apart all the pieces but that's just me probably being lazy hehe.
The Cuisinart Food Processor is what I use to make the perfect, delicious guacamole or make raw desserts. With this, you can chop, shred, slice, and puree your fruits, and veggies. You can check out my "Vegan Chocolate Chip Cookies Recipe" where you can see me using this exact same food processor.
Tribest Soyabella Soymilk Maker and Coffee Grinder
With this handy machine, she can make soymilk, nut milk, porridge, rice paste, and much more. Also makes raw almond milk, cashew milk, and other raw nut milk in as little as 30 seconds.
And can easily convert into a coffee grinder with the included accessories.
This is such a cute gift idea for her because every coconut bowl is unique with its own shape, size, colors, and imperfections which gives it its natural appeal. It's eco-friendly, lightweight, durable, and easy to clean.
This is a handy way to do composting from home in a clean and stylish way. You can let the scraps build up during the week without worrying about attracting flies, pests, or bad smells into your home.
For the female that is into health and fitness, this fruit-infuser water bottle is the perfect gift. I personally love flavored water and this water bottle makes carrying fruit water around so much easier. She will be guaranteed to love this and take it with her wherever she goes.
With an herb kit, she will always have readily any herb at the reach of her hand to make her favorite dish. This is so convenient to have at home at any time of the year. Depending on which one you get it can come with a variety of herbs like Dill, Basil, Chives, Thyme, Parsley, Oregano, Cilantro, Sage, & Mustard.
Trash Can With Recycle Compartment
A stylish and sophisticated way to get rid of your trash. The Blue side is for recycling and the Black side is for trash. Quick and easy way to separate trash and recyclables.
Being vegan is all about exploring new foods and veganizing your old favorites. Help her expand their recipes to raw vegan, comfort foods, smoothies, dressings, and sauces, you name it.
VEGAN BOX GIFT IDEAS FOR HER
For beauty, makeup, snacks, and more. If you don't want to sign up for the monthly subscription plan, some offer a one-time box purchase.
Love Goodly Gift Box
Love Goodly has a page where you can pick from a subscription plan or a one-time box purchase. The box comes with a mix of beauty, wellness, and more! The products are full-size, and they are non-toxic and cruelty-free.
Plus 5% of each purchase supports a cause!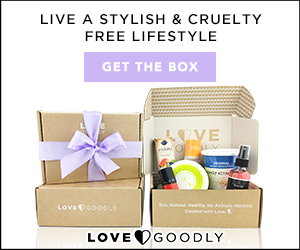 An assortment of 4 beauty products with a total value of over $50. You'll receive a diverse mix of makeup, hair care, body & skincare curated to match your beauty profile, all cruelty-free, non-toxic, and plant-based.
The products are cruelty-free, non-toxic, and plant-based.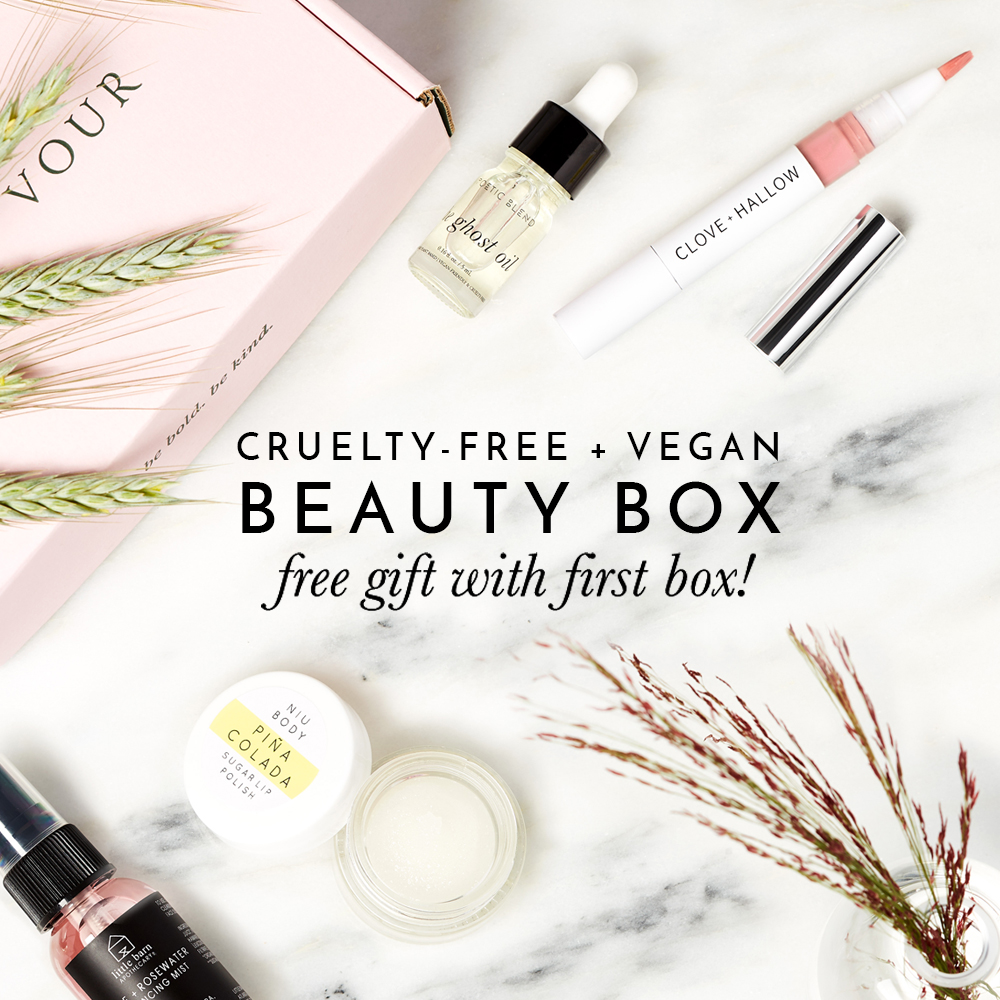 UrthBox
UrthBox has a variety of snack options to choose from. Make sure you pick vegan to get all plant-based food items.
UrthBox snacks are 100% GMO-free, organic, and natural!
This post is all about vegan gift ideas for her.

Other Posts You May Like: