We only feature products that we hope you will love. We may earn a commission if you purchase through our links at no extra cost to you.
Last updated on March 11, 2023
Are you looking for cute family matching outfits? Here you will find plenty of cute ideas!
When it comes to family gatherings, matching outfits have become a popular fashion statement. Not only does it create a fun and festive vibe, but it also signifies a sense of togetherness. From matching Hawaiian shirts for a summer BBQ to matching swimwear for a family vacation or pajamas to celebrate the holidays, will make for some unforgettable family photos. With this style guide, you'll be able to create picture-perfect family-matching outfits that will make your gatherings more memorable and meaningful.
Additionally, we share the best places to find matching clothing. You'll be prepared to make your next family gathering one to remember. With an abundance of options, from timeless classics to modern trends, it's never been easier to find family-matching outfits that everyone can get excited about. You can pick a few of your favorites, and then gather the whole family to cast a vote on their favorite choice!
This post is all about family-matching outfits. 
Best Matching Family Outfits
TABLE OF CONTENTS
---
MATCHING FAMILY OUTFITS FROM ETSY
The matching outfits are so adorable! There's a variety of colors and styles for you to choose from:
---
MATCHING FAMILY SHIRTS
If you don't want to go for complete family outfits, you can choose matching shirts instead. check it out here:
---
MATCHING FAMILY OUTFITS FROM AMAZON
Amazon also has some cute styles when it comes to matching outfits.  Check out the floral or plaid patterns:
---
MATCHING FAMILY SWIMSUITS
These cute matching family swimsuits are trending right now. How adorable if your whole family match!!
---
MATCHING FAMILY PAJAMAS
Family matching pajamas come in all styles like onesies or two-pieces. Check them out below:
---
PHOTO IDEAS
Family is everything! It's a fun way to celebrate your family, no matter the occasion. Dress the whole family up in matching outfits and take a picture – they make great memories and awesome photo ideas! 📸
White and Blue Denim Outfits
Pink and Plaid Color Combination
Blue and Floral Outfits For Everyone
Soft Pink and Floral Pattern Outfits
Floral and Green Tone Matching
Blue Tone Floral Outfits
Soft Blue and Floral Outfits
Floral Tropical Matching Outfits
Green Tone Hawaiian Outfit
White and Blue Polka-Dots Spring Outfit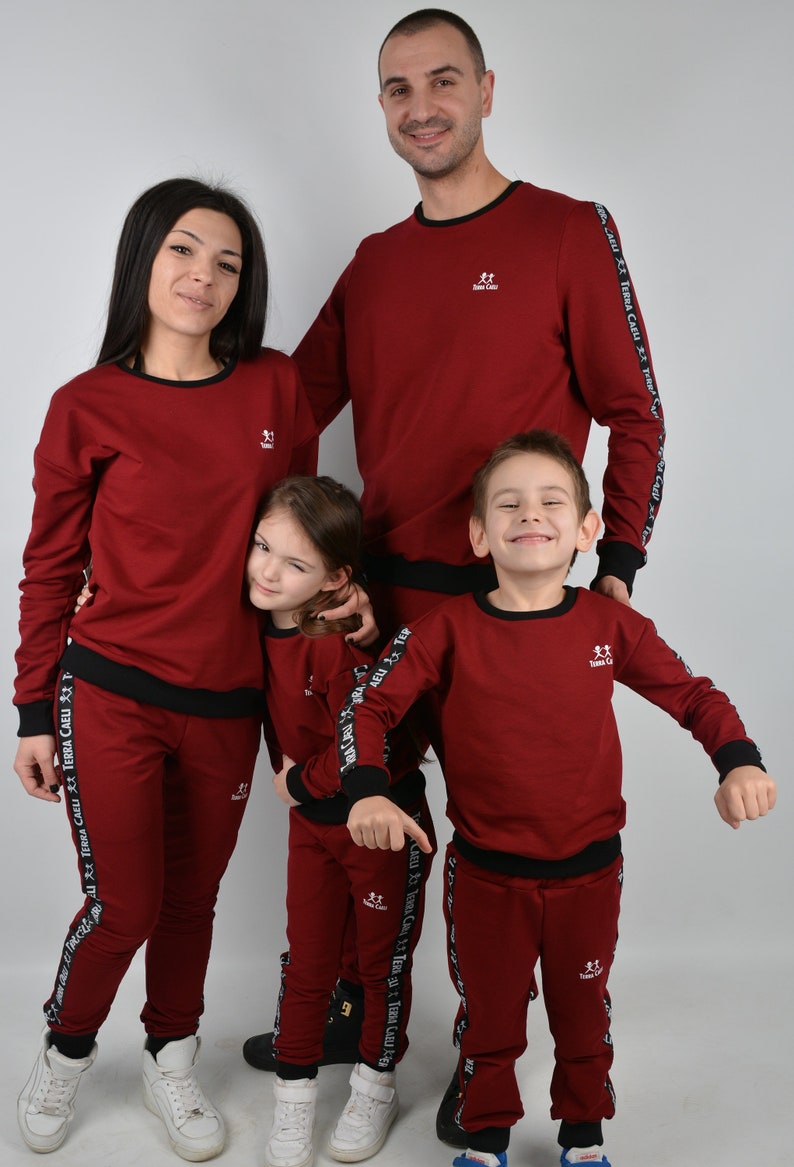 Burgundy Sweatsuits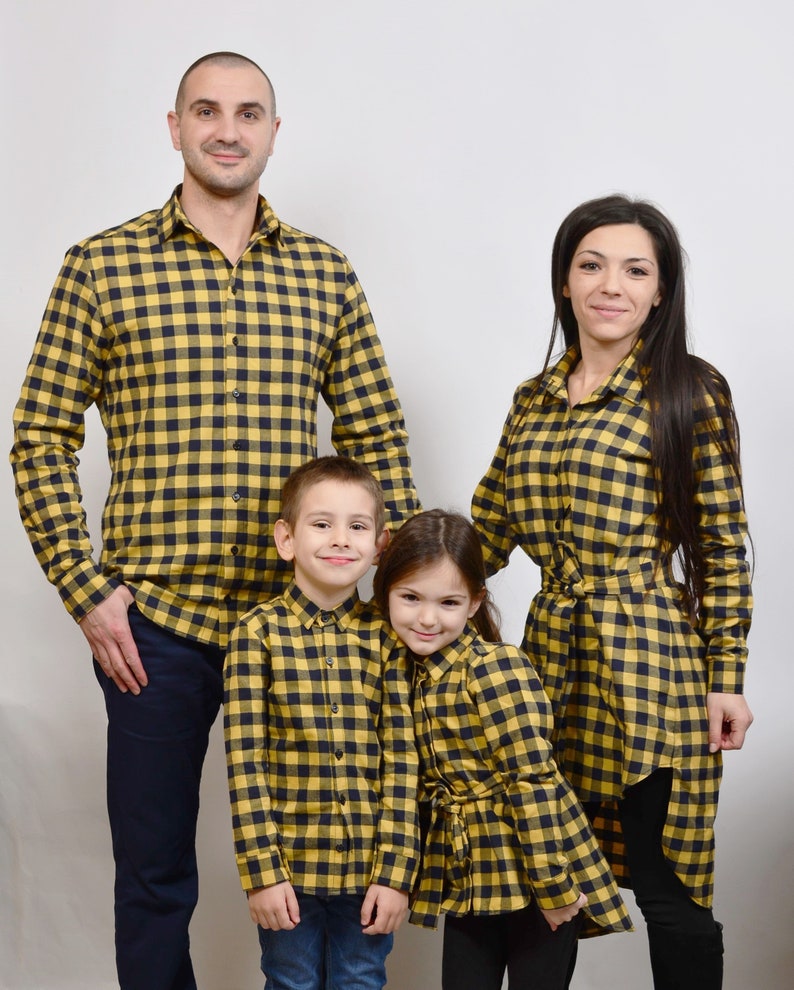 Black and Yellow Plaid Outfits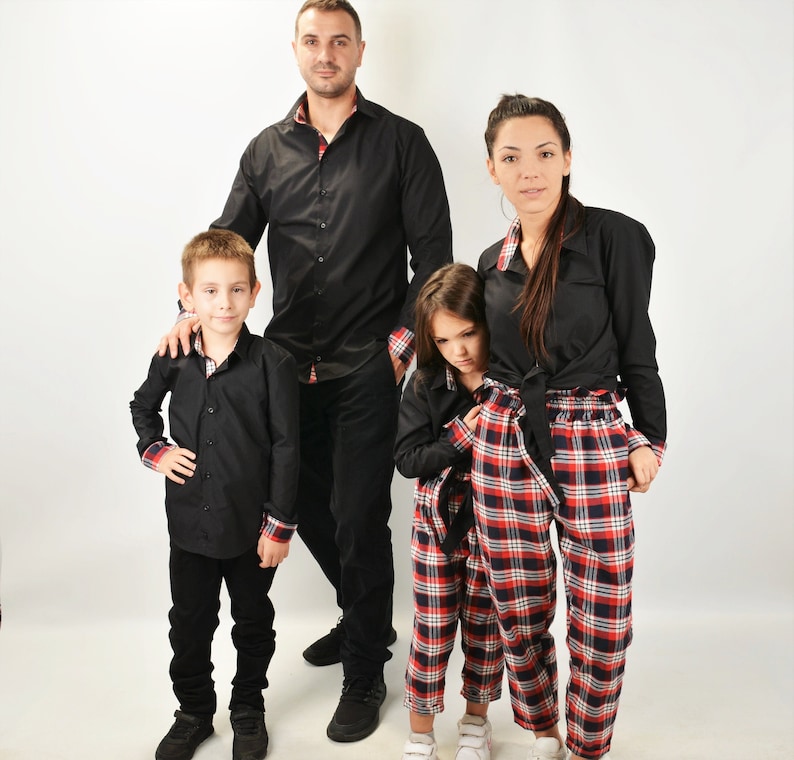 Black and Plaid with Pants and Shirts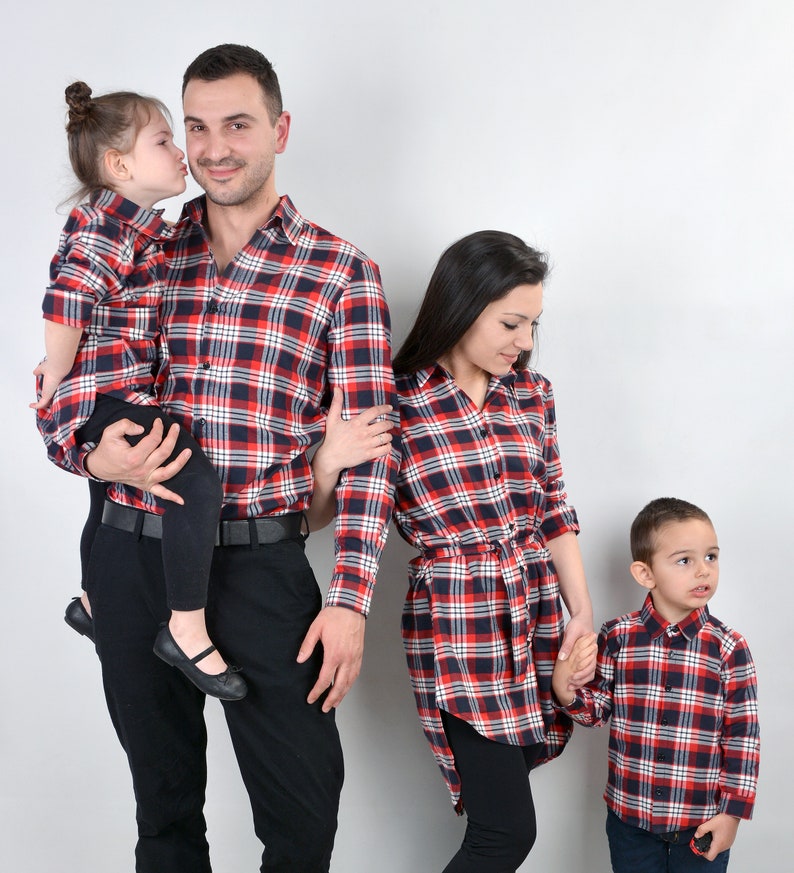 Black and Plaid Outfits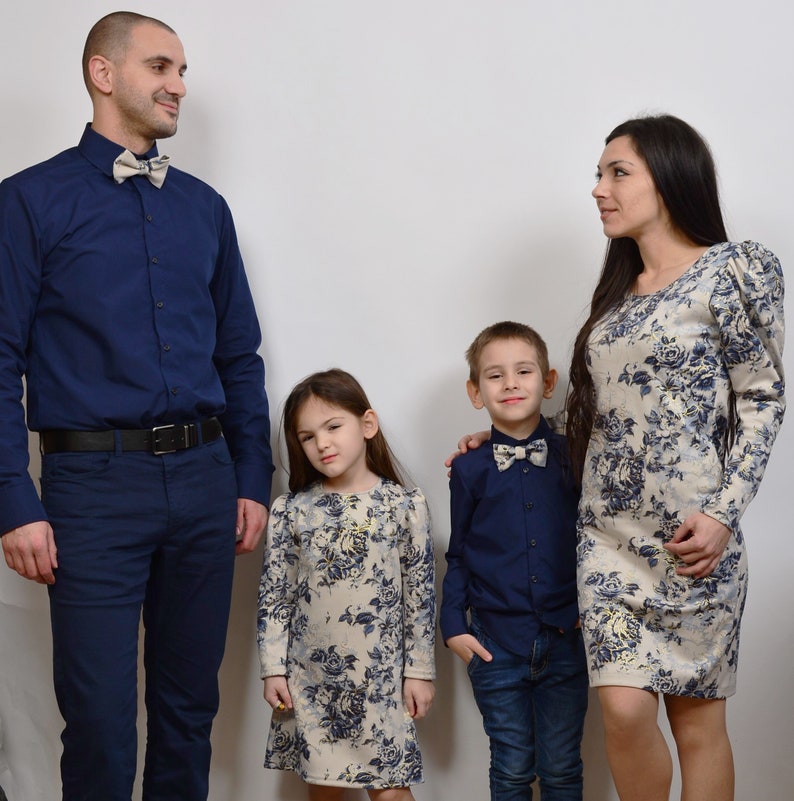 Blue Tone Clothes and Floral for the Ladies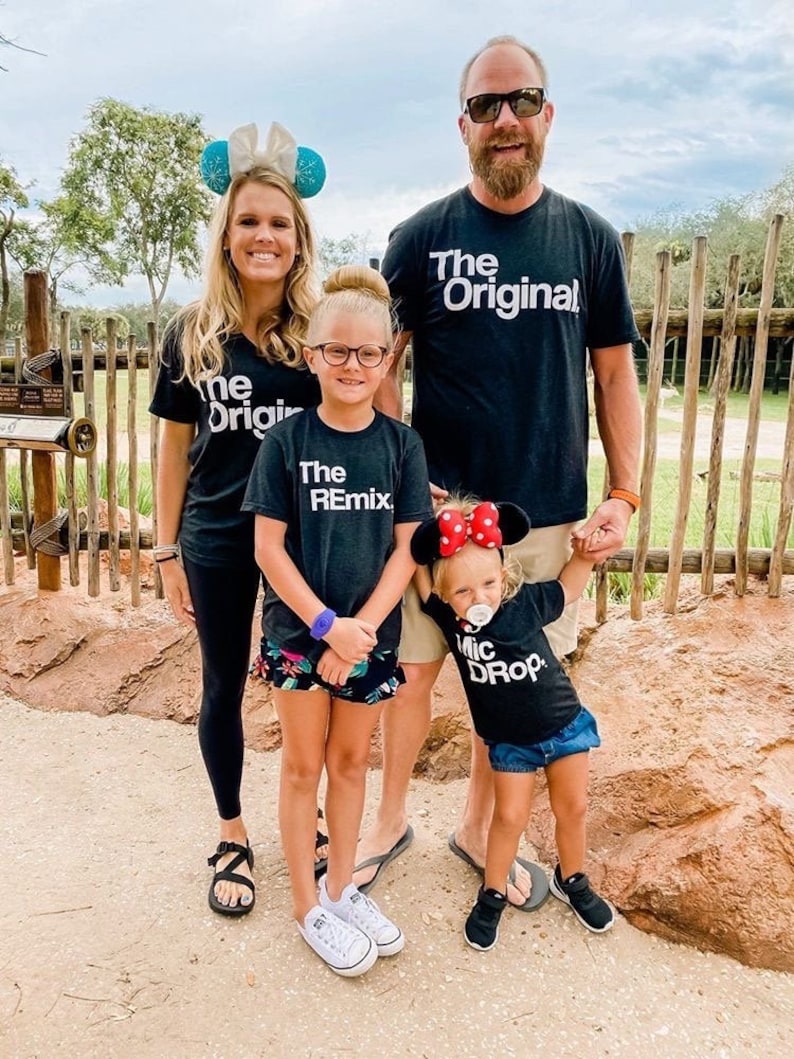 Family Vacation Shirts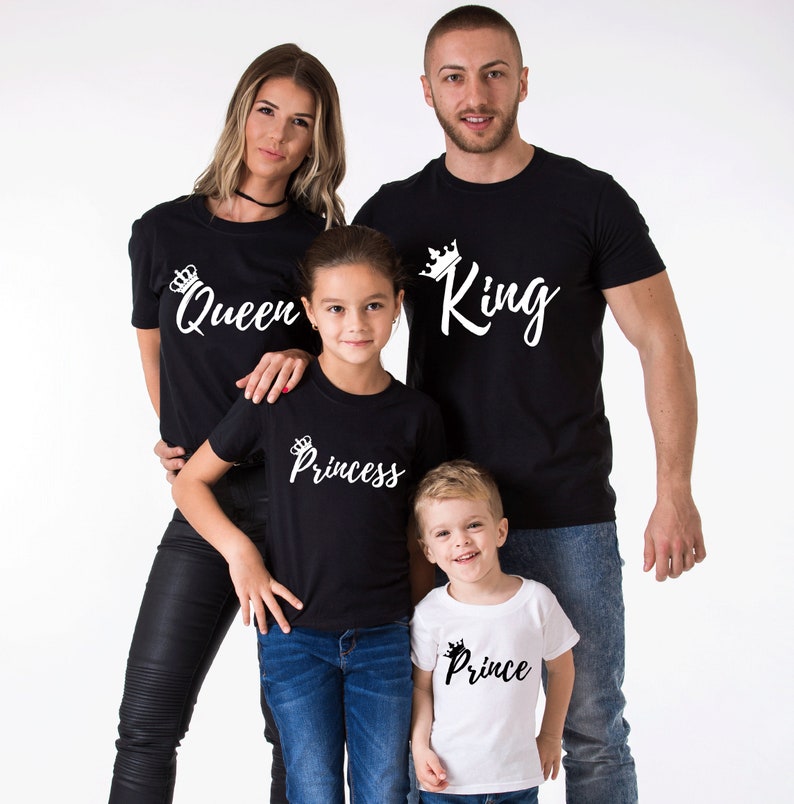 King Queen Prince Princess Matching Shirts
Family Matching Swimwear
Blue Palm Trees Swimwear
Pineapples Print and Pink Tone Swimwear
Black Color Swimwear for Everyone
Pink Color and Palm Trees Swimsuit
Palm Leaves Print Swimsuit for the Whole Family
Blue Tone Palm Leaves Print Swimwear
Blue Color Palm Trees Swimsuit
Blue Tone Stripes Swimwear
Bright Yellow with Flamingos Swimwear
Black Tone and Lemon Print Swimsuit
Blue Color and Pink Flamingos Swimsuit
Family Pajamas
Red and Black Plaid Onesies
PajamaGram Family Pajamas
SleepytimePJs Family Matching Onesies
PajamaGram Family Pajamas Super Soft
PajamaGram Classic Matching Family Pajamas
PajamaGram Pajamas for Family
Matching Pajamas in Plaid
Family Matching Pajamas Cotton Pjs Set
Family Matching Hoodie Onesies
Personalized Family Matching Pajama set
---
Frequently Asked Questions
Where are the best places to find family-matching outfits?
There are many great places to find family-matching outfits, both online and in-store. Retailers such as Old Navy, Gap, and Target often have affordable and stylish options for the whole family. Amazon is also a great resource for finding matching outfits, with a wide variety of styles and sizes available. If you're looking for something more unique or personalized, Etsy is a great place to find handmade and custom-matching outfits. Additionally, many boutique and specialty stores offer matching outfits for families, particularly for special occasions like weddings or holidays. Whatever your budget or style may be, there are plenty of options out there for coordinating outfits for your family. Below we share the best places you can check out:
Why do families wear matching outfits?
Families choose to wear matching outfits for a variety of reasons, but one of the most common is simply to show unity and love for one another. By dressing alike, families can feel a sense of togetherness for special occasions like traveling, holiday card photos, or just a day out. Additionally, matching outfits can make for cute and fun photo opportunities, and they can also help family members easily identify one another in crowded or unfamiliar places.
The great thing about matching outfits is that they don't have to be overly matchy-matchy. Just a few small adjustments like wearing the same color or patterns can create an effect that is both subtle and eye-catching. Whatever the reason may be, wearing matching outfits can be a fun and meaningful way for families to bond and show their love for each other.
How do you coordinate family outfits?
It can be challenging to coordinate family outfits, but with a few simple steps, you can make it much easier. Start by choosing a color palette that suits the season and the occasion, and then use this to guide the look of each outfit. The first step is to choose a color scheme or theme that everyone can agree on. Once you have a general idea of what you want, start by selecting one or two key pieces for each family member, such as a dress or shirt. From there, you can build around those pieces, choosing complementary colors and patterns that tie everything together. It's also a good idea to consider the location and weather when selecting outfits, as well as any cultural or religious customs that may require certain attire. With some planning, you can put together a stylish, coordinated look that everyone in the family will love.
In Conclusion
Family matching outfits are a fun way to show your love and connection as well as to give your family a unified and polished look. Whether you decide to dress in matching patterns, color palettes, or even a single item, you'll create lasting memories. As Maya Angelou once said, "Family is not an important thing, it's everything."
With family-matching outfits, everyone has the chance to show their unique sense of style. So, don't be afraid to include your family in your style choices and show some love by matching. Who knows, it might just become a tradition. Now go out and find the perfect outfit for you and your family and make some magical memories together!
This post is all about family matching outfits.
Other Posts You May Like:
PIN THIS POST: