We only feature products that we hope you will love. We may earn a commission if you purchase through our links at no extra cost to you.
Last updated on January 15, 2023
Are you looking for healthy and easy kid lunch ideas? If so, down below you will find plenty of inspiration!
This post may contain affiliate links, which means I'll receive a commission if you purchase through my link at no extra cost to you. Please read full disclosure here.
Packing a healthy and colorful lunch for your kid/s doesn't have to be hard. On the other hand, you should feel like you have plenty of ideas and ready to pack everyday. Food options that are healthy and filling.
You can pack an easy lunch a day before while you are still in the kitchen. By morning time, you don't have to be rushing the lunches are ready for everyone. Down below you will see various kid lunch ideas that have veggies, fruit, mini pizzas, healthy treats, and more. We even included treats you can buy from Amazon. With any of these lunch ideas feel free to side it with anything you like. Remember these are ideas you can work off of.
Which lunch idea will you be making for your little one/s? My daughter enjoys so much the Annie's Organic Vegan Mac Cheddar Flavor Pasta and Sauce along with the Buddy Fruits Pure Blended Fruit To Go. Let us know your answer in the comment section!
This pos is all about kid lunch ideas. 
Kids Lunch Box Ideas
To pack their lunch you can use kid lunch boxes for easier packing and also to be eco-friendly. The more dividers it has, the more variety you can add for a nutritious meal. Some of the options below even include a set of utensils which is a plus, and they're available in different container colors!
 Best Kid Lunch Ideas
Avocado and Hummus Quesadillas
This can be one of their faves and you can make it a couple of times a week. You can pair it up with mixed berries and pretzels to make it delicious and fun. You can use Chao cheese as an idea.
Image via neuroticmommy
These are applesauce pouches so the kids can have a healthy snack. These are great to add with their lunch box. This particular product comes with different flavors so you get variety in one order.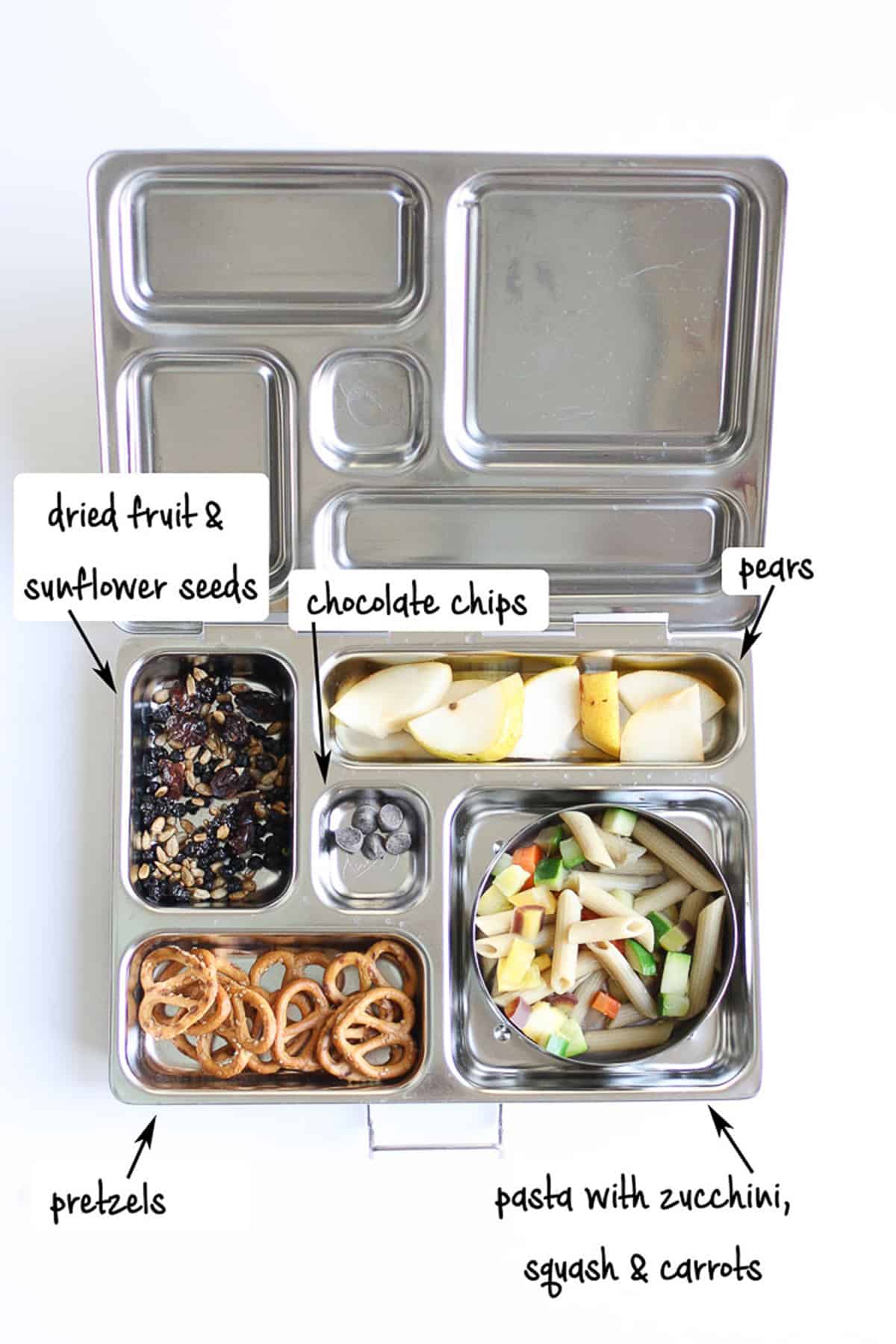 Quick and easy vegan lunch idea for the kids. For this idea you can use regular pasta, or gluten-free version. Add some healthy veggies like zucchini, squash, broccoli, and more.
Image via veggiesdontbite
Dandies All Natural Mini Vanilla Marshmallows 
A couple of these are a nice sweet treat. These are great for kids because they are the mini size, and do not contain gelatin (animal bones) as traditional marshmallows. These are natural and non-gmo, win-win!
Only 10 minutes to make and it tastes just like eggs! Perfect for a quick lunch. You can make this salad ahead of time for meal prep.
Image via itdoesnttastelikechicken
Annie's Organic Vegan Mac Cheddar Flavor Pasta and Sauce
We love this so much because it's made with organic pasta, and it tastes so good that even I LOVE it! My daughter enjoys eating this every week, and she doesn't like other mac N cheese that she has tried. This is great in case your kiddos have dairy allergies.
TIP: I make this with Planet Oat Oatmilk, and Earth Balance butter for a creamier taste. Try it this way, and I think you'll love it too!
Annie's Organic Vegan Shells is also available in Pumpkin and Sweet Potato flavor.
You can make some chewy baked tofu cubes and add some peanut sauce. Add some fruit like grapes, and some veggies like carrot sticks, along with cucumber slices.
Image via veggieinspired
Orgain Organic Kids Energy Bar, Chocolate Chip
This is a nice treat for the kids that is packed with goodness and not sugar. It has less sugar than other brands, and they are perfect for breakfast, as a snacks, before a sports event or even as dessert.
TIP: You can microwave the O bar for 8 to 10 seconds for a warm, decadent treat!!
These Orgain bars is also available in Chocolate Brownie flavor, and Peanut Butter flavor, so yum!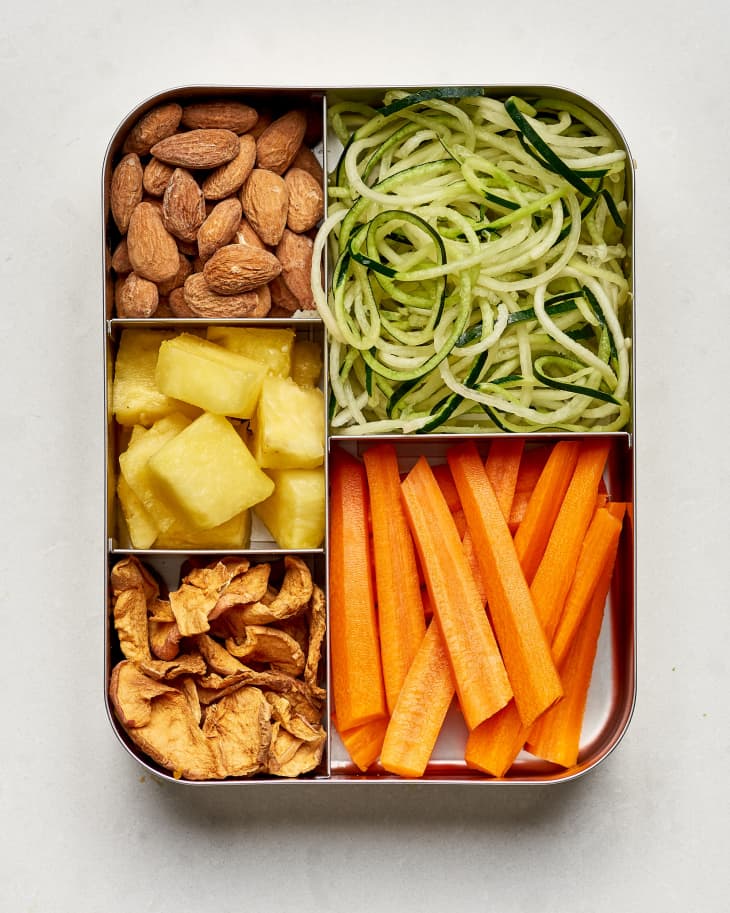 Zoodles are crunch and refreshing. Try adding a splash of olive oil and a squeeze of lime. Add some almonds, pineapple chunks, apple chips, and carrot sticks.
Image via thekitchn
Buy this lunch container: LunchBots Large Cinco Stainless Steel Lunch Container
Nutiva Organic Vegan Hazelnut Spread
This is so good to eat on its own or to eat with fruit!! You can even make the kiddos a peanut butter and Nutiva spread sandwich. This is made with healthy ingredients like hazelnuts, cocoa, flaxseed, coconut oil, and chia seeds. This is a healthier alternative to Nutella because it has less sugar, I love it!
TIP: Spread it on fruit, toast, pancakes, waffles, and crepes.
Extra-Crispy Baked Tofu Nuggets
These crispy and crunchy baked tofu nuggets are coated and seasoned with panko and Italian breadcrumbs.
Image via plantbasedandbroke
Annie's Homegrown Chocolate Bunny Grahams
Chocolate treats are always yummy, and better for the kids when it is made with organic ingredients. Annie's makes these chocolate bunny grahams with organic wheat flour!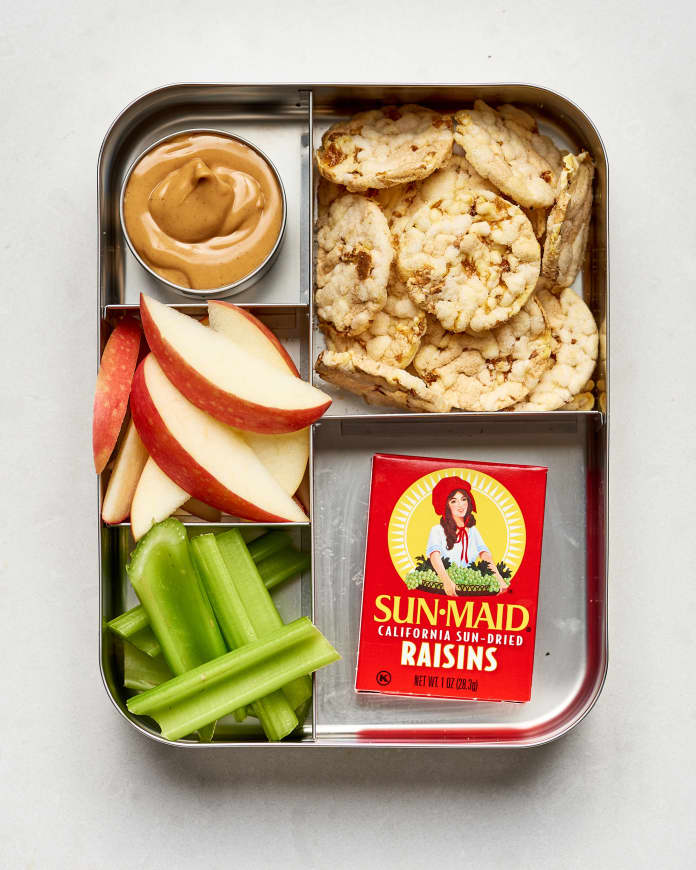 An idea for this kid lunch idea is to spread any butter of your choice onto the rice cakes or dip it in the butter. Pack it with apple slices, celery sticks, and a box of raisins.
Image via thekitchn
Buy this lunch container: LunchBots Large Cinco Stainless Steel Lunch Container
Orgain Kids Plant Based Protein Nutritional Shakes
These protein shakes contains fiber and 22 vitamins and minerals. This is organic, and has less sugar than most brands.
Orgain protein shake is also available in chocolate flavor, so yummy for the kids!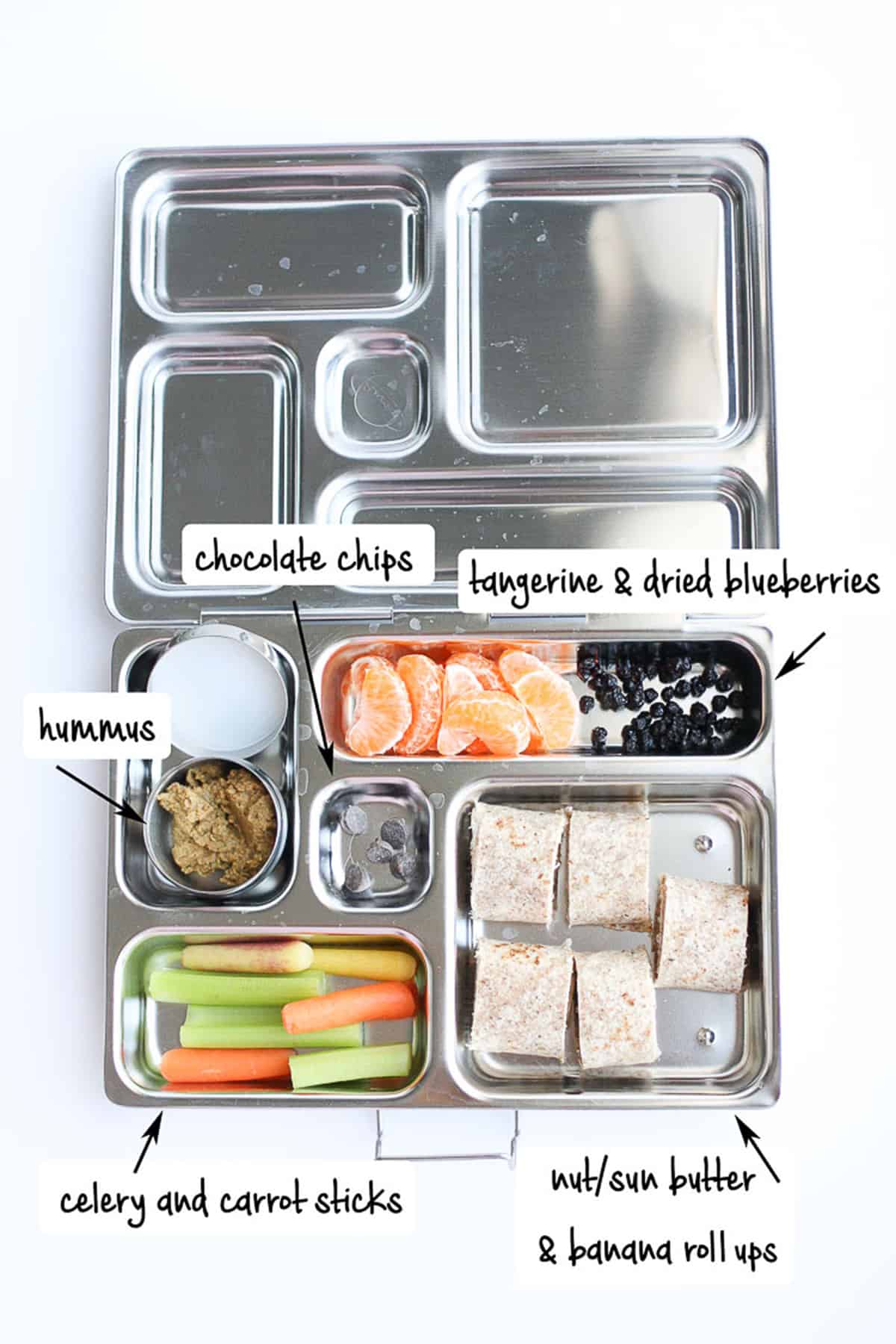 This is a quick lunch idea to make. Just spread a nut butter of your choice onto a tortilla, add some banana slices, and roll them up. Add some fruit, hummus, and veggies.
Image via veggiesdontbite
Annie's Organic Bunny Fruit Snacks
These fruity snacks are certified organic, and made with real fruit juice, which provides a daily value of vitamin C! This particular option brings a variety of flavors so the kiddos don't get bored of the same flavor.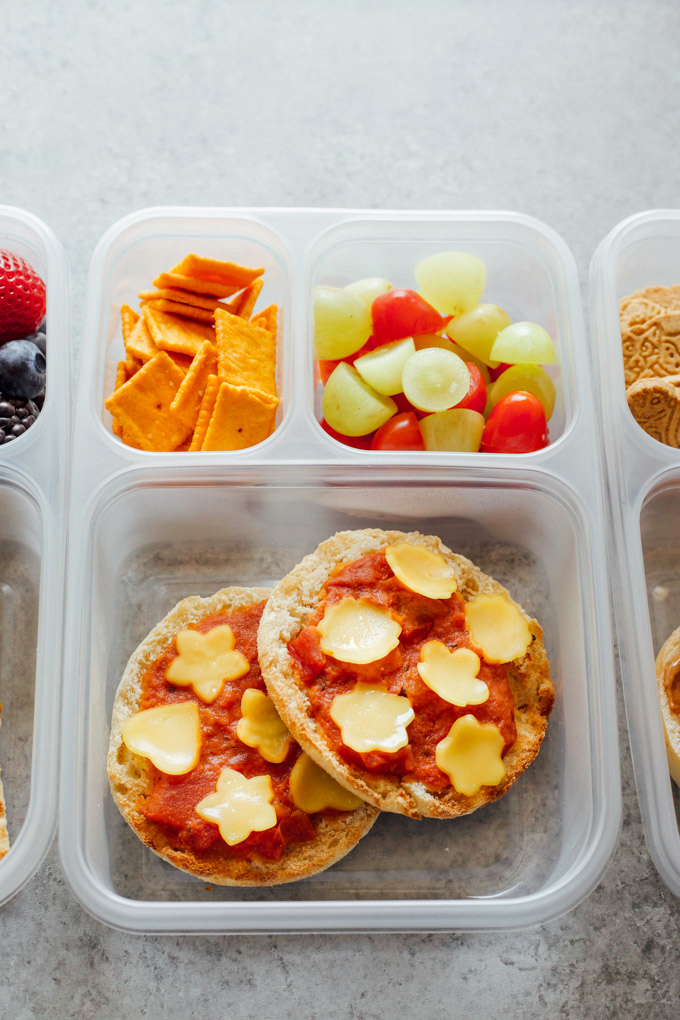 For these pizzas you can use food cutter shapes to make the cheese into little fun shapes for your little one. Pair it up with grapes, cherry tomatoes, and vegan cheddar squares.
Image via neuroticmommy
BEAR Real Fruit Snack Rolls – Gluten Free, Vegan, and Non-GMO
These sweet treats for the kiddos are a great alternative to processed candy. They are made with real whole fruit, and nothing else! Perfect for lunch boxes, backpacks, or simply a great on-the-go healthy snack.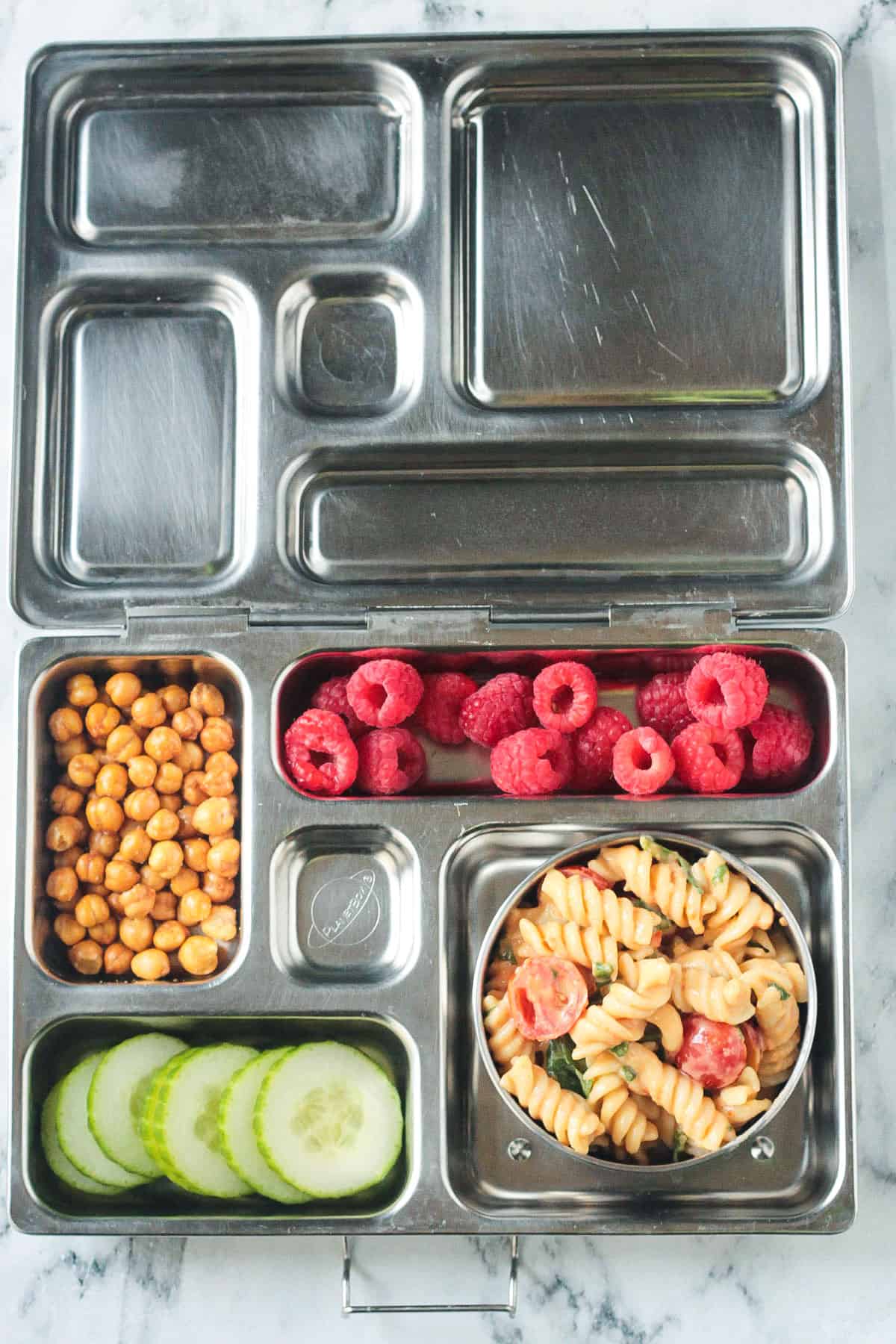 For this creamy hummus pasta idea you can use homemade hummus or grab a container of store-bought for a quicker option.  Add some roasted chickpeas, raspberries, and cucumber slices.
Image via veggieinspired
Buddy Fruits Pure Blended Fruit To Go Multifruit Applesauce
Even my daughter likes these so much! They are natural and great to take on-the-go. Buddy Fruits comes in so many different fruit flavors so you can pick the favorite one for your little one.
Baked Tofu Bites (Use these everywhere!)
These easy baked tofu bites are great on its own or can be used in many dishes like salads, sandwiches, tacos, on pasta, and any other foods.
Image via itdoesnttastelikechicken
This post is all about kid lunch ideas.
Other Posts You May Like:
PIN THIS POST: