We only feature products that we hope you will love. We may earn a commission if you purchase through our links at no extra cost to you.
Last updated on February 19, 2023
Are you looking for vegan snacks for your kids to enjoy? If so, in this list you will find plenty of ideas!
Thankfully with the internet finding vegan snacks, it's not complicated anymore. In this list, you will see a variety of ideas, from snack recipes to store-bought snacks. Any kid vegan or not would even enjoy these!
Snack time can be a great time to provide the kids with extra nutrients into them and give them energy, especially at a young age when they're so active.
Which one will you be trying for the kids? My daughter enjoys the Buddy Fruits Pure Blended Fruit To Go fruit pouches in different flavors. Let us know your answer in the comment section!
This post is all about vegan snacks for kids. 
Reusable Kids Snack Container Ideas
To pack their snacks on the go consider using reusable kids' snack containers. Not only are they cute, but it saves you money in the long run. It also makes it easy for the kids to grab their snacks. The options below have more than 1,000 reviews and above 4 stars!
 Best Vegan Snacks for Kids
Homemade Gluten-Free + Vegan Goldfish (Allergy-Free, Grain-Free)
Nothing says childhood more than Goldfish crackers! Now you can make your own Homemade Gluten-Free & Vegan Goldfish that are top 8 allergy-free, grain-free, sugar-free, and secretly protein-packed! This a healthy snack recipe moms and kids will love!
Image via strengthandsunshine
Buddy Fruits Pure Blended Fruit To Go Multifruit Applesauce
Even my daughter likes these so much! They are natural and great to take on the go. Buddy Fruits comes in so many different fruit flavors so you can pick the favorite one for your little one.
Vegan Healthy Rice Krispie Treats
This recipe mimics the flavors and textures of Rice Krispie Treat using more natural ingredients. These squares taste phenomenal, with the buttery richness of coconut butter and the sweetness of brown rice syrup.
Image via dreenaburton
Vegan Old-Fashioned Iced Oatmeal Cookies
Learn how to make the absolutely most delicious vegan old-fashioned iced oatmeal cookies made vegan, gluten-free, and oil-free, and just 8 easy ingredients!
Image via thevegan8
Annie's Organic Bunny Fruit Snacks
These fruity snacks are certified organic, and made with real fruit juice, which provides a daily value of vitamin C! This particular option brings a variety of flavors so the kiddos don't get bored of the same flavor.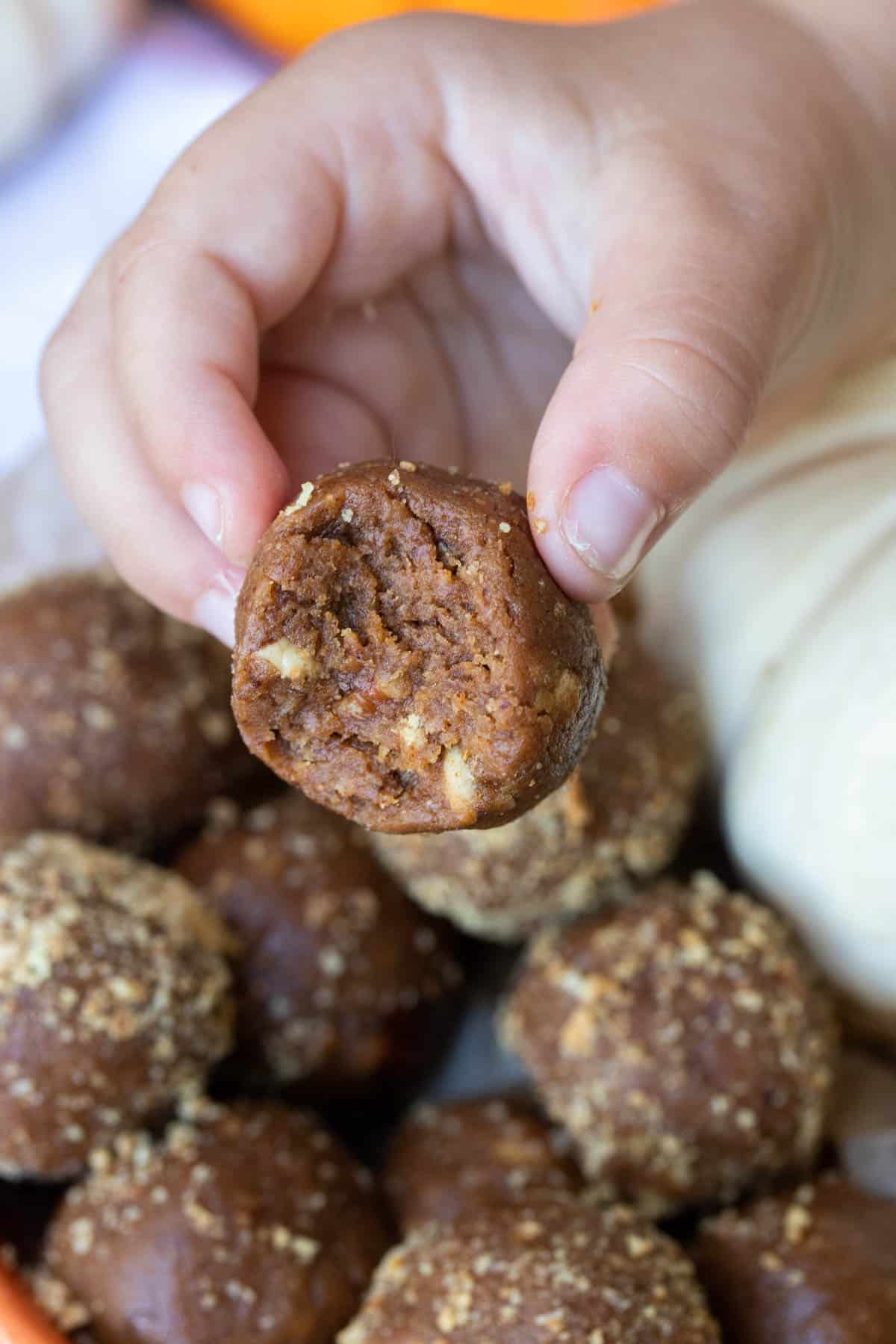 Easy Vegan Pumpkin Pie Energy Balls
These pumpkin energy balls are the perfect snack. Only seven ingredients and five minutes to make a healthy treat for the whole family!
Image via veggiesdontbite
Orgain Kids Plant-Based Protein Nutritional Shakes
These protein shakes contain fiber and 22 vitamins and minerals. This is organic and has less sugar than most brands. The Orgain protein shake is also available in chocolate flavor, so yummy for the kids!
Chickpea Nuggets (Vegan + Gluten-Free)
These allergy-friendly Chickpea Nuggets are perfect for vegans or people with food allergies. Enjoy them with your favorite dipping sauce.
Image via myplantbasedfamily
Annie's Homegrown Chocolate Bunny Grahams
Chocolate treats are always yummy, and better for the kids when it is made with organic ingredients. Annie's makes these chocolate bunny Grahams with organic wheat flour!
Crispy Crunchy Roasted Chickpeas
The secret to getting them extra crispy is to dry roast them first, and then season them at the last minute. This is an easy-to-make, healthy, vegan, 5 ingredient snack that everyone will love.
Image via itdoesnttastelikechicken
Nutiva Organic Vegan Hazelnut Spread
This is so good to eat on its own or to eat with fruit!! You can even make the kiddos a peanut butter and Nutiva spread sandwich. This is made with healthy ingredients like hazelnuts, cocoa, flaxseed, coconut oil, and chia seeds. This is a healthier alternative to Nutella because it has less sugar, I love it!
TIP: Spread it on fruit, toast, pancakes, waffles, and crepes.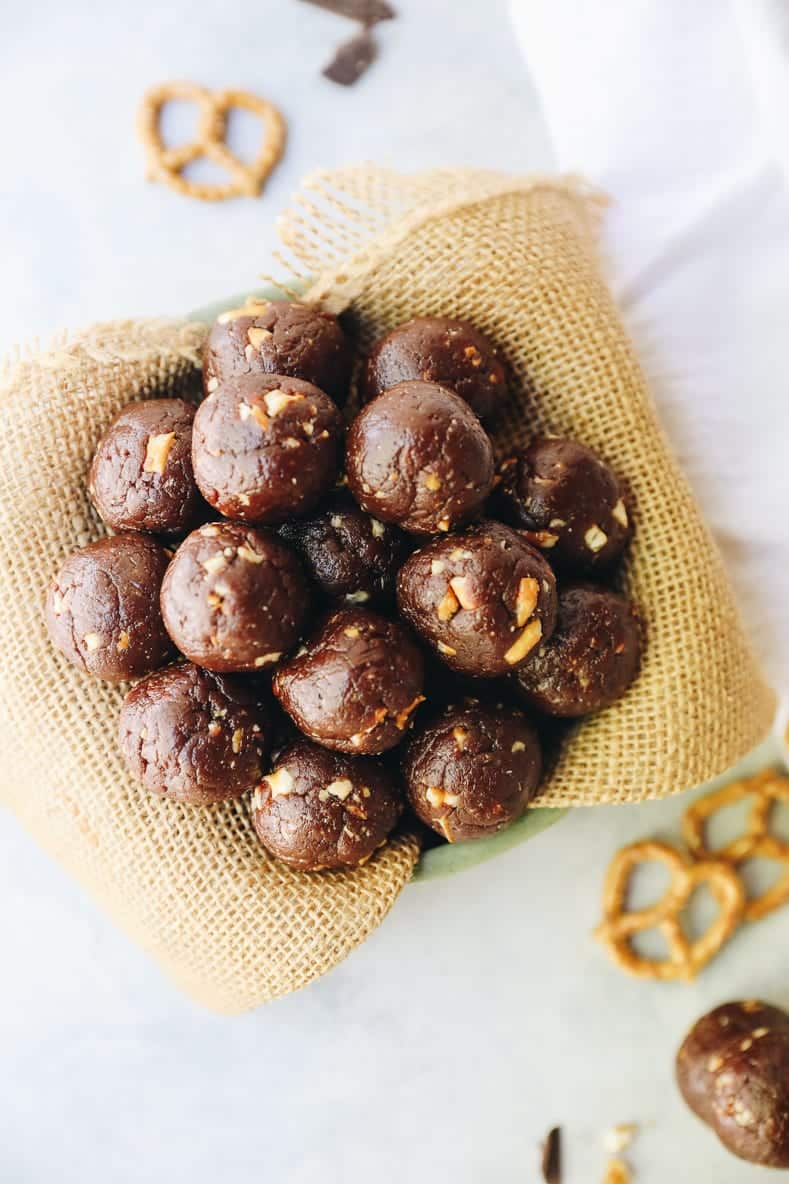 Chocolate Peanut Butter Pretzel Energy Balls
With just 4 simple ingredients these chocolate peanut butter pretzel energy balls come together in minutes and make the perfect quick and filling snack the whole family will love. Plus they keep for a long time in the refrigerator! If they last that long…
Image via thehealthymaven
Sweet Potato Crackers Recipe – Easy, healthy recipe for kids
Sweet potato crackers recipe. Bake this yummy and easy crackers recipe for a healthy snack.
Image via merrimentdesign
Orgain Organic Kids Energy Bar, Chocolate Chip
This is a nice treat for the kids that are packed with goodness and not sugar. It has less sugar than other brands, and they are perfect for breakfast, as a snack, before a sports event, or even as dessert.
TIP: You can microwave the O bar for 8 to 10 seconds for a warm, decadent treat!!
These Orgain bars are also available in Chocolate Brownie flavor, and Peanut Butter flavor, so yum!
Easy Peanut Butter Chocolate Pretzels
Easy to make peanut butter chocolate pretzels that make for a perfect snack for any party or to enjoy as a treat.
Image via veggieworldrecipes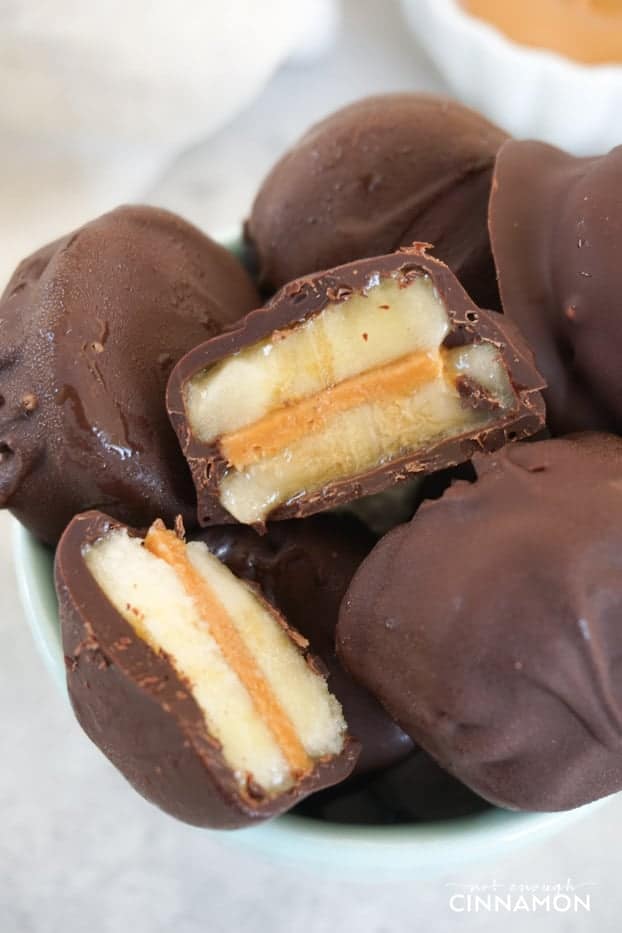 Frozen Chocolate Peanut Butter Banana Bites
You only need three ingredients – chocolate, peanut butter, and bananas – to make these delicious healthy treats. They are super easy to make and always a hit with everyone!
Image via notenoughcinnamon
Dandies All Natural Mini Vanilla Marshmallows 
A couple of these are a nice sweet treat. These are great for kids because they are the mini size, and do not contain gelatin (animal bones) as traditional marshmallows. These are natural and non-GMO, win-win!
Strawberry Almond Milk (Vegan, Paleo)
A healthy and delicious treat for any time of the day. Strawberry Almond milk makes for a rich creamy drink with a delightful strawberry flavor.
Image via sunnysidehanne
Peanut Butter Chocolate Smoothie
This Peanut Butter Chocolate Smoothie tastes more like a milkshake than a smoothie. Full of peanut butter, bananas, and cocoa powder, this dairy-free smoothie will surely satisfy your sweet tooth!
Image via veggieinspired
Earth Balance Vegan Cheddar Flavor Squares
You can satisfy the kids craving for salty snacks with these vegan cheddar cheese snacks. They can enjoy these for movie night or school snacks.
Healthy Vegan Cookie Dough Fudge Bites with Chocolate Chips
These healthy vegan cookie dough bites are unbelievably dairy-free, oil-free, free of added sugar, and delicious as all hell. Beloved by vegans and omnivores alike!
Image via yupitsvegan
Earth Balance Gluten Free Vegan Aged White Cheddar Puffs
These cheese puffs taste so much better than regular cheese puffs they are more like artisan cheese puffs. They were so tasty I am reordering and they will be a staple in my pantry for when I get the craving. The only thing that some might not like is that the cheddar taste is not too strong, which is good for me because the regular cheese puffs can start to taste too artificial and these do not. I would highly recommend them to anyone. – Amazon Review
Homemade Fruit Roll-Ups – Only 2 Ingredients!
Finally…a snack you can feel good about serving your kids! These homemade fruit roll-ups are made with real fruit and are fun to make!
Image via thesoccermomblog
These are applesauce pouches so the kids can have a healthy snack. These are great to add to their lunch box. This particular product comes in different flavors so you get variety in one order.
This post is all about vegan snacks for kids.
Other Posts You May Like:
PIN THIS POST: